Company was established in 2005 and is a response to the market needs of the industry processing foamed plastics, mainly polyurethane. Our company produces strings and cutting tapes that are made on the basis of Polish production technology and represent the highest quality. The motto of our company is the highest quality of products and short delivery times. By cooperating with us, you will gain a trustworthy partner. We produce a wide range of strings and cutting tapes that are intended for cutting materials such as:

- Polyurethane PU - foam used in the upholstered furniture industry (cutting out foam profiles for upholstery fillings).
- Recycled polyurethane (REBOND) - foams glued together with cut pieces of polyurethane foams used in the furniture industry.
- Flexible polyethylene - foam used in the furniture industry (cutting rectangular elements from blocks of foam, filling upholstered furniture and mattresses).
- Rigid polyurethane PUR - foam used to insulate air-conditioning installations (protective cold).
Mineral wool (rock, glass) - insulation of pipelines, chimneys, high-temperature tanks against heat loss.

Ranges of tools' dimensions (circumferential length):
- Cutting strings - circumferential length from 3400mm to 13000mm - you can order any length of the cutting string from this range.
- Cutting tapes - any circumferential length requested by the customer.

We have the largest number of types of cutting strings. Individual types of cutting strings are designed to cut the appropriate type of material with the appropriate density expressed in kg / m3.

Our tools are made of the best raw materials currently available on the market, which guarantees their high quality. It is possible to select the type of cutting string to the specificity of the material cut by the customer.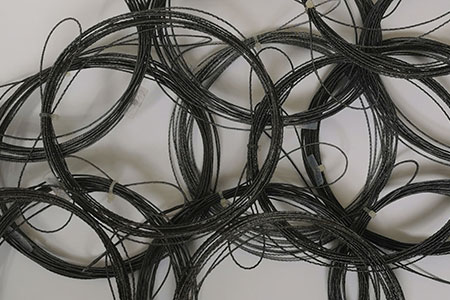 Cutting Wires
Cutting strings are tools that enable cutting out desired shapes from blocks of the above-mentioned materials. Cutting string enables straight cuts as well as cutting complex, non-rectilinear shapes (curves, arcs).
This method enables:
- cutting out and adjusting the mineral wool insulation to the curvature of the high-temperature tank,
- cutting insulation from mineral wool or rigid polyurethane foam PUR, with a specific internal diameter and thickness, intended for insulating pipes of heating pipelines, with process steam, chimneys or air conditioning systems,
- cutting out the desired shape of PU foam filling in upholstered furniture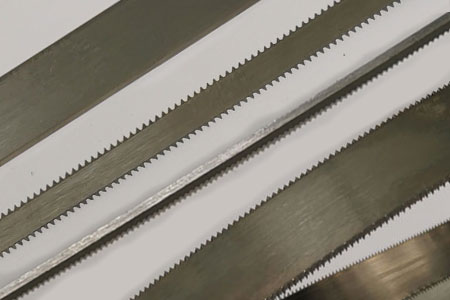 Band knives
Smoothly sharpened band knives are straight or twisted and both types are pre-sharpened (sharpening takes place on machines designed for cutting with these tools).

- Smoothly sharpened straight band knife - sharpening on the machine sharpens one edge of the tape.
- Smoothly sharpened twisted band knife - sharpening on the machine sharpens two edges of the tape (possibility of cutting the foam block at both feeds of the machine table).
Toothed band knives are made as one-side or two-side toothed knives. Contour band knives are designed for cutting on CNC machines enable dust-free cutting of various shapes (contours, arcs).

Contact
Address
MAGTECHNIK S.C.
Andrzej Gongała Marcin Gongała
Biała 12,
58-124 Marcinowice
NIP: PL8842606960
Phone+48 693 802 839
+48 601 418 378

Phone / Fax+48 74 850 44 78